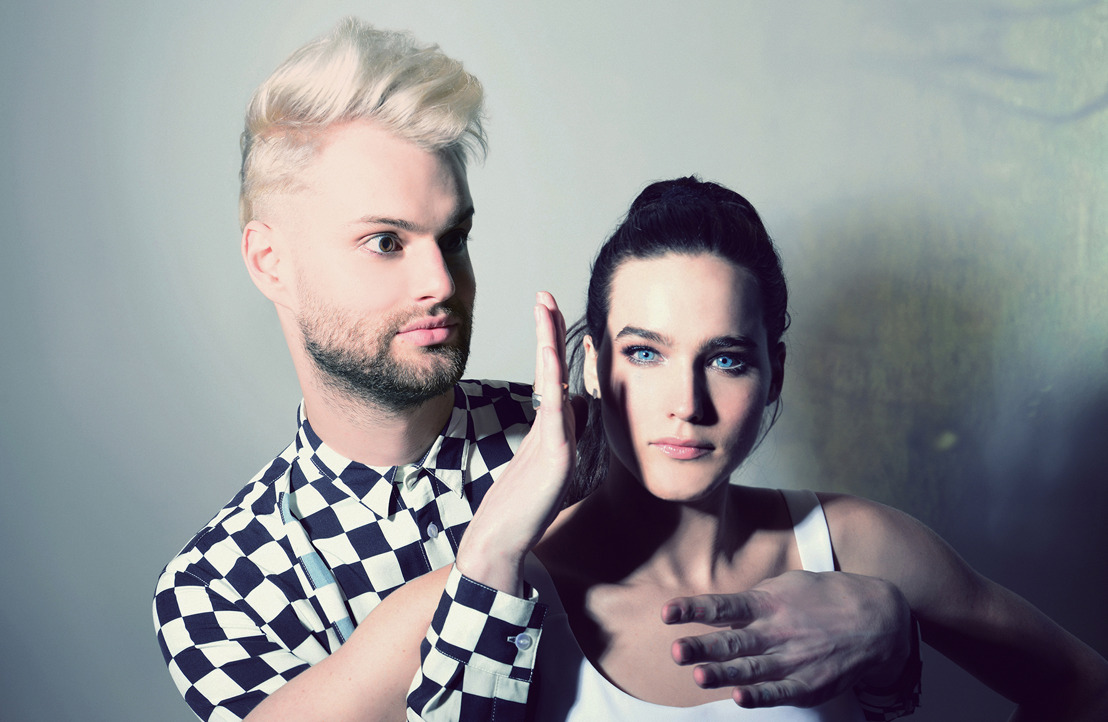 Sofi Tukker - "Batshit / That's it (I'm Crazy)"
Mit ihrem heiß erwarteten Album "Treehouse" in den Startlöchern liefert das Grammy-nominierte Erfolgs-Duo Sofi Tukker mit "Batshit" eine neue Single mit Viral-Potential.
Dienstag, 3. April 2018 — 20 Millionen Spotify-Streams, eine Grammy-Nominierung und eine andauernde Kooperation mit Apple Watch - die Erfolgsbilanz des New Yorker Duos Sofi Tukker nach nur einem Jahr kann sich sehen lassen. Mit "Treehouse" erscheint am 13. April ihr lang erwartetes Debütalbum über Ultra Music. Vor Release veröffentlicht die Power-Band jedoch mit "Batshit" / "That's it (I'm Crazy)" eine weitere Single - hier hört man Tukker in den Lead Vocals, anders als bei ihren bisherigen Hits Drinkee", "Best Friends" und "Baby I'm A Queen".
"Batshit" / "That's it (I'm Crazy)"
Der Erfolg von Sofi Tukker war alles andere als geplant. Die Mitglieder Sophie Hawley-Weld und Tucker Halpern lernten sich durch Zufall während einer Kunstausstellung kennen, weil sie dort beide eine Performance hatten. Bereits wenige Monate später schrieb das in New York City ansässige Duo den viralen Hit "Drinkee", welcher in einer Apple Watch -Werbung zu hören war, über 20 Millionen Spotify-Streams einbrachte und eine Grammy-Nominierung in der Kategorie "Best Dance Recording" erhielt. Der erste Song, den Sophie und Tucker überhaupt zusammen schrieben, wurde der Grundstein für die ebenfalls erfolgreiche EP "Soft Animals".
Dabei plante Tucker nie, mit Musik erfolgreich zu werden. Er strebte die ersten 20 Jahre seines Lebens eine Karriere als professioneller Basketballspieler an. Doch dann war er aufgrund einer Krankheit acht Monate lang bettlägerig – und beschäftige sich in dieser Zeit mit der Musikproduktion. Sophie hingegen sang schon seit der Mittelstufe in Chören, spielte Schlagzeug und schrieb selbst Songs. Auch sie musste nach einer Verletzung vier Monate im Rollstuhl verbringen. Doch das hielt sie nicht davon ab, Musik zu machen: noch während ihrer Genesung startete das Duo durch.
Sophie wohnte während ihrer Jugend in vielen verschiedenen Ländern und besuchte dementsprechend einige internationale Schulen. Dieser multikulturelle Hintergrund ist wohl auch der Grund dafür, dass sie sich entschied, auf Portugiesisch zu singen, eine Sprache, die sie in der Uni lernte: "I think it's extremely sexy". Der Erfolg von "Drinkee" beweist, dass Sophie mit dieser Meinung nicht allein ist.
Wahrscheinlich war niemand überraschter als Sophie und Tucker selbst, dass ihre Band innerhalb von zwölf Monaten zu einem Act weltweiter Anerkennung aufstieg. Doch während so manche Künstler unter dem Druck nach dem Durchbruch leiden, ist Sofi Tukkers Motto: Challenge accepted. Das Duo arbeitet vor allem unter Druck besonders gut. "Luckily we love what we do so it never feels like work. I also think the recognition actually gives us more freedom to go wild.", so Tucker. Trotz des großen Erfolgs fühlt sich die Band nicht, als sei sie jetzt eine Größe: "We're still the same young band trying to sell out little venues and have parties with people all over the world".
LIVE DATEN:
08. Juni | Puls Open Air, Geltendorf, Deutschland
11 Juli| | Gurtenfestiva / Bern, Switzerland
8. September | Lollapalooza Berlin
TRACKLIST "TREEHOUSE":
01. Fuck They
02. Energia
03. Benadryl
04. Batshit
05. Good Time Girl (feat. Charlie Barker)
06. Johny
07. My Body Hurts
08. The Dare
09. Baby I'm A Queen
10. Best Friend (feat. NERVO, The Knocks & Alisa Ueno)
Julia Bergold Online | Fashion, KIM KOM - Artist & Brand Communication