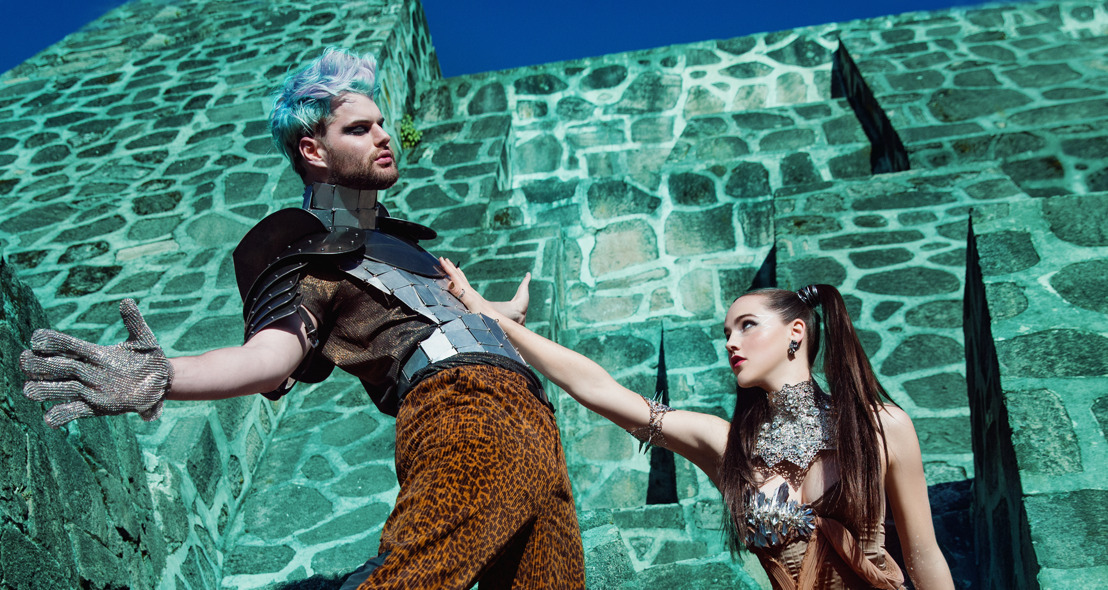 Sofi Tukker künden ihre EP "R.I.P. Shame PT. 1" für den 20. Sept. 2019 an
Neues Video "Swing" online
Sofi Tukker verkünden die neue EP "R.I.P. Shame PT.1" mit einem neuem Video zu "Swing". Der neue Song entwickelte sich schon beim Testen in den Live-Shows als ein Publikums-Liebling. Ab Ende Juli ist die Band wieder live zu sehen, nachdem Sofi aufgrund eines Unfalls auf der Bühne eine Zwangspause einlegen musste.
Im neuen Song feuern sich die beiden in einer nahezu martialischen Art auf brasilianisch die von Chacal inspirierten Verse entgegen, gebettet auf einem wuchtigen Rythmus. Das wird wunderbar im Video visualisiert, wo die beiden sich battlen. Nach "Matador" ist es der zweite Song, der von dem brasilianischem Dichter Chacal beeinflußt wurde.
Das Video zu "Swing" führt uns nach Mexiko. Der Director Charles Todd, der bereits für Troye Sivan und Jay-Z drehte, lässt diesen Clip im futuristischen Park Centro Ceremonial Otomí drehen. Eingebettet in den malerischen Bergen von Toluca wurde dieser Platz als Hommage an die Otomi und deren Kultur errichtet.
SOFI TUKKER zu "Swing", "This song always felt like an epic battle song. It's more like a chant than a song, really. It's called "swing" because we literally swing the song after Tuck says that. We collaborated with the Brazilian poet, Chacal, and the words are about words!! Like a lot of the things we do with Chacal, part of the meaning of it is just how nonsensical it is. It's really about how delicious and delightful and also meaningless words ultimately are."
Zur EP, "We have realized over the past year or two of touring that the thing we really want to offer to the world is a feeling of being in community in joy and celebration. We are living in a time when people are increasingly isolated and that's where shame can grow and fester and ultimately kill our spirits. Our goal is to kill shame, set our spirits free, and be together! That is the common thread throughout the EP and throughout the next phase of our creations."
Tracklist EP "R.I.P. Shame PT. 1"
Swing

Playa Grande (w/ Bomba Estéreo)

Ringless

Purple Hat

Fantasy

Like This
"R.I.P. Shame Tour" in DACH:
25.11. Frankfurt @ Gibson Club0
01.12. Hamburg @ Markthalle
02.12. Köln @ Carlswerk
03.12. München @ Technikum
05.12 Wien @ Arena Wien
06.12. Bern @ Bierhubeli
09.12. Zürich @ Harterei Club
12.12. Berlin @ Tempodrom
---
Über Sofi Tukker:
Der Erfolg des 2018 erschienenen Debut-Album "Treehouse" brachte dem Duo direkt eine GRAMMY-Nominierung, einen Auftritt bei der GRAMMY Awards Premiere Ceremony und eine Gold-Auszeichnung der Single "Best Friend" in den USA ein. Mehrere Apple Kampagnen und Synchs in Hollywood Blockbustern wie "Oceans 8" sind bezeichnend für die Nachfrage des einzigartigen globalen Sounds der Band aus New York. Mittlerweile hinterlassen Sofi Tukker mit ihren eklektischen Kollaborationen einen farbenfrohen Fingerabdruck in der globalen Musikwelt.